It occurs in temperate climate and grows in Southeast and Central Europe, even in Great Britain. Lower northern temperatures are tolerated as well - in Scandinavia and Iceland.

Red sorrel
The most attractive of the sorrel family, "red veined" sorrel is valued for its pointed and light lime leaves with dark red veins. Grown for its pleasantly tart, lemon flavour. Sometimes it can be classified as herb and sometimes as a vegetable, since it can be cooked like a vegetable, but its specific lemon flavour is similar to herb. Sorrel is an excellent alternative to spinach with very similar use, but its leaves have spicier and slightly citrus-like flavour. Young leaves are perfect for salad mixes.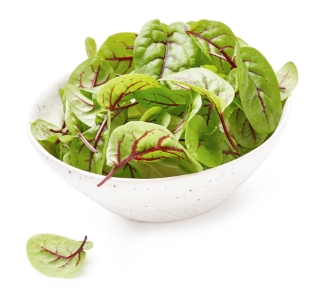 Chef's tips
To limit oxalates action in the sorrel, add a boiled egg.